Most busy executives like to be frugal, and many more enjoy working in bed, so the Apple AirPort Express allows the traveling businessperson access to lots of great wireless features.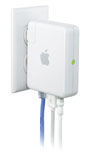 Apple's AirPort Express has been around for a few years, and it's a popular tool because of it's compact size, ease of use, and overall driver of satisfaction.
Want to save money when you and others are staying in the same hotel room? Hook up the hotel's broadband cable to the Express and then all your colleagues can use their WiFi cards to wirelessly connect to the Internet. Some smarter hotels do already offer WiFi, but for those still using cables, the Express is a great tool to keep in the suitcase.
Need to chat with your boss while relaxing in bed at the hotel? Hook up the hotel's broadband cable to the Express, configure your pillows into a comfortable vertical sitting position, and lean back to enjoy.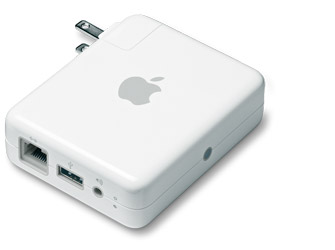 I actually own two Apple AirPort Express devices. I keep one at home and the other one safely in my briefcase: even when I'm not traveling, the Express is useful on sales calls when the client gives me a cable that I can attach to the Express and then roam further away with my laptop. The one at home is useful because I send my music wirelessly around my apartment to the nifty speakers I acoustically positioned. Its small size and affordability make it perfect for having more than one.
One thing to keep in mind is the plug you will generally use. My friend lives in Beijing but bought her Express in Hong Kong, and therefore it has a Hong Kong style plug, which is not compatible with China's standard electrical sockets. Be sure to buy an Express with the type of plug you generally use, and then also carry an adapter.