All your personal data is on your laptop, but your company now says you need to switch to a new laptop. Or your laptop is getting old and it's time to donate it to a local charity. Getting rid of the hardware is easy, but what should you do to erase all information so future users do not have access to your personal stuff?
Computers are so much complicated than they were ten years ago, and with more storage space, they are prone to be havens for private photos, personal messages, and secret financial data. But instead of the obvious pouring of acid and burning to ashes of your old computer hardware, try these tips to rid your future self of past worries.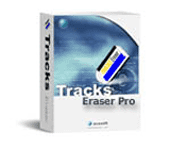 Acesoft's Tracks Eraser Pro is designed to protect you by cleaning up all the tracks of Internet activities on your computer. With one click, Tracks Eraser allows you to erase the cache, cookies, history, typed URLs, autocomplete memory, index.dat from your browser and temp folder, run history, search history, open/save history, and recent documents.
Tracks Eraser has a free 30-day trial and a full version costs US$29.95 to buy. With Tracks Eraser Pro's free plug-ins, you can easily erase the tracks of up to 100 popular applications, such as the playlists of RealPlayer, MediaPlayer, and QuickTime, and recent files of Microsoft Office, Adobe Acrobat, and WinZip. Tracks Eraser Pro has the Custom Item, which lets you erase files and Registry entries. With its Securely Erasing feature enabled, Tracks Eraser Pro will overwrite files a set number of times with random data, and others cannot recover or undelete them.
Anti Tracks is software developed by Right Utilities and securely erases your Internet tracks, computer activities, and history stored in hidden files on your computer. To ensure maximum privacy protection, Anti Tracks implements the U.S. Department of Defense DoD 5220.22-M, Gutmann, and NSA secure-erasing methods.
Anti Tracks also includes more than 110 free plug-ins that extend erasing features to support popular programs, such as Acrobat Reader, Kazaa, PowerDVD, and iMesh. The software costs US$29.95 and the company offers a free 15-day trial.

Finally, sometimes you need a real-world device to physically abolish old information. If you're like me, you have many CDs lying around, filled with files that were too big to either email or FTP. Breaking CDs is one way to make them fairly useless to others, but breaking them by hand can send shards flying into your eye. So I recently started using Actto's Shredder for CDs and DVDs to safely rid myself of these old disks. At only CNY30.00, and available in most electronics stores around China, the Shredder works easily to render your useless CDs even more unusable.
We only covered laptops and desktops, but in the future we'll also delve into how to remove all your pesky data from PDAs, mobile phones, and USB devices. Let us also know how you get rid of old data on your computers.